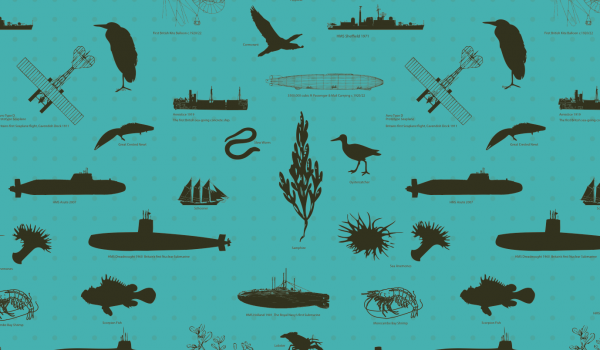 Art Gene is launching the 'Seldom Seen' Islands of Barrow Route Guide on Wednesday 4th September, 2013 at the Art Gene Gallery in Barrow-in-Furness.
This beautifully designed map suggests a series of tours around the Barrow Islands searching for points of interest including hidden assetts, natural wonders, historical sites and industrial heritage. Many people interested in Nuclear Culture will be familiar with the Barrow shipyards where Britains nuclear submarines are built, but might not know about the world's largest offshore windfarm, or Furness Abbey.
The map traces the history of the Islands from the medieval period, interweaving the timelines of submarines and airships with sealife, contemporary energy, culture and water sports. Peruse the map and you can find out all sorts of amazing cultural facts, for example there is a street in Barrow called Mikasa after the Japanese battleship HIJMS Mikasa which was built in the Vickers Shipyard at Barrow in 1900. The guide explains:
"Mikasa, launched 1900, is the world's only surviving pre-dreadnought battle ship: Admiral Togo's flagship at the Battle of Tsushima (1905), in which the Japanese destroyed the Russian combined fleets. The battle changed existing theories of eugenics & white racial supremacy that were commonly used to justify imperialism & racial oppression, & heralded Japan's rise as a world power. Because of her pivotal role, Mikasa's position in Japanese history is analogous to that of HMS Victory in British national consciousness & has been preserved as a museum. Mikasa Street and many others named after famous Barrow built ships include Powerul Street & Vengeance Street can be found on Walney Island."
For more info about Art Gene see their website here.