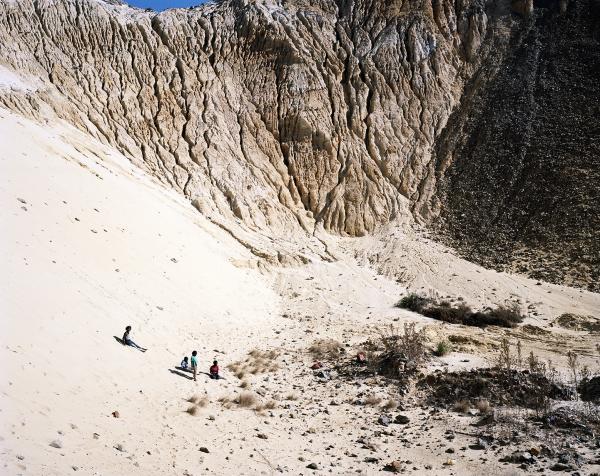 Inside-Out Earth: Residues of the Anthropocene in Africa.
Public lecture by Professor Gabrielle Hecht
LG02, Professor Stuart Hall Building
Goldsmiths University of London
22 Oct 2019, 6:00pm - 8:00pm
Chaired by Ele Carpenter and Shela Sheikh
We are turning our planet inside out, releasing molecules and materials long trapped in the earth. Mining conglomerates descend kilometers underground to extract metals that power electronics, making mountains of unwanted rocks. Dredgers scoop sand from sea beds to terraform military bases and luxury islands. Offshore oil erupts, leaks, flows, combusts. All that was buried melts into air, seeps into waterways, settles on soils, and penetrates bodies.
But who is "we"? While the Anthropocene continually inscribes itself in all our bodies – we all have endocrine disruptors, microplastics, and other toxic things chugging through our metabolisms – it manifests differently in different bodies. Those differences, along with the histories that generated them, matter a great deal. This talk digs into the entangled residues of mining, apartheid, and contemporary inequalities on South Africa's Rand plateau, which encompasses Johannesburg, Soweto, and hundreds of kilometers of abandoned mine tunnels. How do toxic residues inflect politics in the "hollow Rand"?
GABRIELLE HECHT is the Frank Stanton Foundation Professor of Nuclear Security at CISAC, Senior Fellow at FSI, Professor of History, and Professor (by courtesy) of Anthropology. Her current research explores radioactive residues, mine waste, air pollution, and African Anthropocenes. These interests are coalescing into a series of essays, provisionally titled Inside-Out Earth: Residual Governance Under Extreme Conditions. The first of these have appeared in Cultural Anthropology, Aeon, Somatosphere, the LA Review of Books, and elsewhere. Hecht's 2012 book Being Nuclear: Africans and the Global Uranium Trade offers new perspectives on the global nuclear order by focusing on African uranium mines and miners. It received awards from the Society for the Social Studies of Science, the American Historical Association, the American Sociological Association, and the Suzanne M. Glasscock Humanities Institute, as well as an honorable mention from the African Studies Association. An abridged version appeared in French as Uranium Africain, une histoire globale (Le Seuil 2016), and a Japanese translation is due out in 2021. Hecht serves on numerous advisory boards, including for the Andra, France's national radioactive waste management agency.
This public lecture is part of the "Decolonising the Nuclear" Workshop, generously supported by the CHASE Doctoral Training Partnership, Critical Ecologies Research Stream, Mountain of Art Research (MARs) in partnership with Arts Catalyst, Art Action UK, MFA Curating and Goldsmiths University of London. For full information, see the link below.
Please note that no booking is necessary for the public lecture but booking is essential for the workshop.
https://www.gold.ac.uk/calendar/?id=12794
Image: Ilan Godfrey, Riverlea mine dump, Main Reef Road, Johannesburg, Gauteng, 2011. (c) Ilan Godfrey
https://www.loot.co.za/product/ilan-godfrey-legacy-of-the-mine/djyt-2641...
https://www.amazon.co.uk/gp/offer-listing/1431408611/ref=tmm_hrd_new_olp...