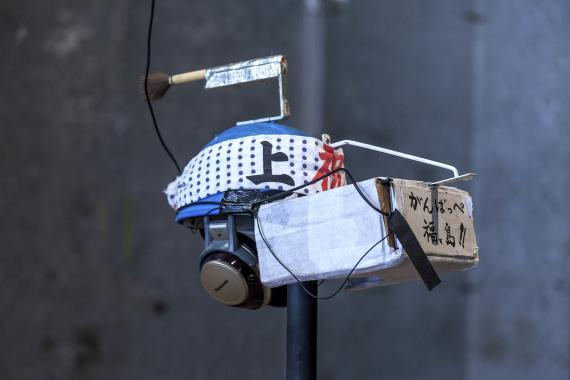 Don't Follow the Wind | Hikaru Fujii
Fri 19 May 2017 - Sat 15 July 2017
Arts Catalyst Centre
74-76 Cromer Street, London
Arts Catalyst presents two exhibitions and a season of events reflecting on disaster, displacement and poisoned lands.
Real Lives Half Lives: Fukushima is a season exploring cultural and societal responses to disaster, displacement and poisoned lands. What can art do in an ongoing catastrophe? How do citizens respond to a situation that forces tens of thousands of people out of their homes, land, and communities, many of whom probably cannot return for decades?
Arts Catalyst presents two solo exhibitions by artists that respond to the man-made disaster of the 2011 Fukushima Daiichi nuclear meltdown, alongside a series of events exploring the profound social, cultural and political impact of Fukushima in Japan and the lessons we may learn.
http://www.artscatalyst.org/real-lives-half-lives-fukushima
A Walk in Fukushima - Don't Follow the Wind
The curatorial collective Don't Follow The Wind Chim↑Pom, Kenji Kubota, Eva and Franco Mattes, Jason Waite - who developed the long-term project and its ongoing off-site correspondences, was initiated by Chim↑Pom. On 11 March, 2015, an inaccessible exhibition entitled Don't Follow The Wind opened in Fukushima on the fourth anniversary of the earthquake and tsunami that triggered the ongoing crisis at the Fukushima Dai-ichi Nuclear Power Plant (owned by TEPCO). The exhibition is situated inside the radioactive, evacuated area surrounding the power plant at sites lent by former residents, which include a warehouse, farm, and a recreation centre. The curators collaborated with twelve artists including Ai Weiwei, Chim↑Pom, Grand Guignol Mirai, Nikolaus Hirsch and Jorge Otero-Pailos, Meiro Koizumi, Eva and Franco Mattes, Aiko Miyanaga, Ahmet Öğüt, Trevor Paglen, Taryn Simon, Nobuaki Takekawa, and Kota Takeuchi. Located inside the inaccessible Fukushima exclusion zone, the exhibition is open and yet remains unseen. It will continue to be invisible for years or even decades.
At Arts Catalyst, the curatorial collective has formed a correspondence with the inaccessible exhibition. Whilst the artworks in the original exhibition remain unseen in the exclusion zone, other objects from the sites appear on display, bearing material witness to the ongoing catastrophe. These physical artefacts include the farmhouse keys and cafe furniture from a restaurant that had intended to open on the farm a few weeks after the disaster. The restaurant, its inauguration now perpetually deferred, has instead become a host for artworks that the former residents see as conceptual placeholders for their absence.
A Walk in Fukushima is an immersive 360-degree video made by the curatorial collective. Filmed in and around the uninhabited radioactive area, the video presents an intimate experience of the inaccessible zone, the venues for the exhibition Don't Follow the Wind, and the power plant itself. The video follows the account of a former resident's visit to his abandoned home inside the exclusion zone; it is shown on headsets made by three generations of a Fukushima family living just outside the zone in a contaminated area deemed 'safe to live' by the government. The accompanying narratives of these headsets share personal accounts and experiences of this new reality: the restrictions, the rumours and the desires for a different future seen from their unstable present.
Project Fukushima! - Hikaru Fujii
Artist Hikaru Fujii's film Project Fukushima! follows the preparations for a festival held in Fukushima city five months after the nuclear disaster. The festival, called simply "Fukushima!" was organised by a group of artists and musicians including Yoshihide Otomo. They aim to give visibility to Fukushima's current state just as it was. The film features music and poetry by Yoshihide Otomo, Michiro Endo, Ryoichi Wago and people from Fukushima and other regions of Japan. It was not a typical festival since the organisers had to address questions such as: Would it be ethical to bring people to Fukushima? What about children? And what would it mean to the people of Fukushima if the festival had to be called off after all due to radiation concerns? Throughout the film we see how the lives of people in Fukushima have changed and what the future might look like for the next few generations.
Born in 1976, Hikaru Fujii creates video installations that respond to contemporary social problems. He makes use of extensive research and fieldwork investigating existing systems and structures, based on the idea that art is produced out of the intimate relationship between society and history. His work explores modern education and social systems in Japan and Asia as well as the nature of museums and art museums.
Events Programme
The "triple disaster" of earthquake, tsunami and meltdown energised many people in Japan to become more proactive, vocal and dissenting. Mass anti-nuclear protests were held countrywide in the years following the disaster and smaller scale protests are still widespread. A citizen science movement sprang up in response to the slow release (some claimed withholding) of radiation data, with citizens using their own radiation-measuring devices to measure levels of radioactivity and post that data online. Legal challenges and petitions against nuclear power in Japan point to another tactic used by a citizenry that wishes to reclaim more governance over its environment and safety. Japanese artists have responded with an array of approaches, and have often been at the forefront of dissent and critique.
A programme of talks, events and activities will run through May to July, in partnership with Art Action UKArt Action UK is a collective that explores ways to create opportunities for cultural practitioners to develop strategies that will help those affected by disasters.
Nuclear Energy and the Commons – A Workshop
Wednesday 31 May 2017, 2 - 4pm
Arts Catalyst Centre
Free, but pre-enrolment essential
Sabu Kohso, political and social critic, scholar and activist, and Arts Catalyst's artistic director, Nicola Triscott, lead this workshop examining nuclear radiation as a "negative commons" and discussing this in relation to the planetary commons and nuclear capitalism.
More info and how to register
Sabu Kohso and Jason Waite: Confronting a Catastrophic World
Wednesday 31 May, 6.30pm - 8pm
Arts Catalyst Centre
£5, booking essential
Critic, scholar and activist Sabu Kohso and curator Jason Waite discuss the Fukushima disaster as an ongoing and unfolding situation, one among many disasters across the globe caused by the intensifying development of extractive capitalism across the planetary body.
More information and booking
Consequences: A collaborative film-making workshop
Saturday 17 June, 12-5pm
Arts Catalyst Centre, 74-76 Cromer Street, London WC1H 8DR
£8, bring your own lunch
Kerri Meehan and Alex Ressel invite workshop participants to make a collaborative film or sound work, using the framework of the surrealist game of "Consequences". The workshop will use imagination and storytelling to address the consequences of the global nuclear industry in a deep time context.
More information and booking
Supported by the Great Britain Sasakawa Foundation and Arts Council England.
With special thanks to NPO S-AIR and Project Fukushima!.