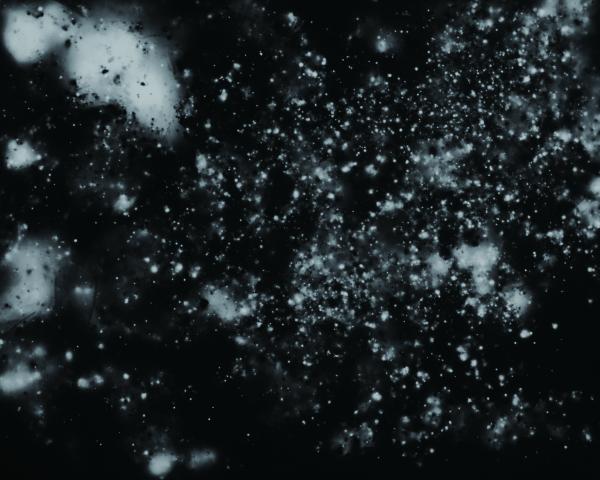 Perpetual Uncertainty:
Art in the Nuclear Anthropocene
Z33, Hasselt, Belgium
September 17 – December 10, 2017
Roundtable: Friday 17 November
Perpetual Uncertainty is an exploration of contemporary art in the nuclear anthropocene. The exhibition brings together international artists from across Europe, the USA and Japan to investigate experiences of nuclear technology, radiation and the complex relationship between knowledge and deep time.
The nuclear anthropocene describes how man-made radiation has contaminated the earth, forming a mark of human activity that will last for hundreds of thousands of years. Whilst 20th century fallout provides a time-stamp of the first nuclear age from nuclear weapons testing; the 21st century repositories for high-level radioactive waste will physically create a new geologic layer in the earth's fossil record for over 100,000 years. Looking beyond the modernist vision of a utopian nuclear age, contemporary artists are engaging with the lived experience of radiation through nuclear objects, architectures and landscapes. Investigating new forms of nuclear vernacular, folklore and rethinking the markers and archives of the nuclear anthropocene.
A larger program on Nuclear Culture activities will accompany the exhibition, including field trips to nuclear sites with artists, and a roundtable discussion on November 17th bringing together different experiences and approaches to nuclear aesthetics and politics.
Participating artists: James Acord, Shuji Akagi, Lise Autogena and Joshua Portway, Nick Crowe and Ian Rawlinson, Finger Pointing Worker, Dave Griffiths, Isao Hashimoto, Erika Kobayashi, David Mabb, Cécile Massart, Eva and Franco Mattes, Yelena Popova, Susan Schuppli, Shimpei Takeda, Kota Takeuchi, Thomson & Craighead, Suzanne Treister, Andy Weir, Robert Williams and Bryan McGovern Wilson, Ken + Julia Yonetani.
'Perpetual Uncertainty' forms part of the 'Nuclear Culture' curatorial research project initiated by Ele Carpenter with support from Arts Catalyst and Goldsmiths University of London. The Nuclear Culture project promotes exchange and cooperation between artists, experts, and scientists through artists field trips to nuclear locations in Europe and Japan, commissions of new works of art, exhibitions, round table discussions, publications, and lectures. 'Perpetual Uncertainty' is produced by Bildmuseet, Umeå University, Sweden, with the support of Z33 and Arts Catalyst London.
Perpetual Uncertainty is curated by Ele Carpenter, and produced by Bildmuseet, Umeå University and curated by Ele Carpenter with the support of Z33, and Arts Catalyst London. In 2018 the exhibition will travel to the Malmo Konst Museum, 24 February - 26 August.
To accompany the Perpetual Uncertainty exhibition at Z33, Ele is writing a series of three short essays for the Z33 Research blog here: http://z33research.be/2017/09/post-nuclear-anthropocene/
Sonic Radiations: In Search of a Nuclear Musicology by Meteor Musik is available here: https://www.mixcloud.com/MeteorMusik/sonic-radiations-in-search-of-a-nuc...
About Z33
Since 2002, Z33 House for Contemporary Art, has been presenting cutting-edge projects and exhibitions with a strong research based approach. It is a unique laboratory and a meeting place for experiment and innovation. They create interdisciplinary projects crossing art, design, science and research. Z33 presents temporary exhibitions, organises projects in open spaces, and works in partnership with other organisations. The basis for their programme is formed by three different Research Studio's (Studio Time, Studio Space and Studio Work) combining different projects, including artistic development and production, research fellowships, residencies, exhibitions.
Z33, Zuivelmarkt 33, 3500 Hasselt
17 September – 10 December 2017
Tue - Fri: 10h00 -1700,
Sat - Sun: 11h00 – 18h00
Free admission
www.z33.be
www.z33research.be
IMAGE: Shimpei Takeda (2012)
Trace #7 Nihonmatsu Castle
Soil Sample Data:
Collected Date: 1/4/2012
Weather: Sunny
Location: Nihonmatsu, Fukushima (34.7mi /55.9km NW)
Radiation Measurement: (Air) 1.91 | (Ground) 4.299μSv/h
Z33 Flikr: https://www.flickr.com/photos/z33be/sets/72157661004698018
Selected Reviews:
Regine, Pazugoo: The 3D printed Evil Spirits of Nuclear Waste Storage, 14 November, 2017
http://we-make-money-not-art.com/pazugoo-the-3d-printed-evil-spirits-of-...
Regine, Perpetual Uncertainty: Inhabiting the Atomic Age, 4 October, 2017: http://we-make-money-not-art.com/perpetual-uncertainty/
The exhibition was featured on Belgian national television on Sunday 17th September: https://www.vrt.be/vrtnws/nl/2017/09/17/nucleaire-dreiging-wordt-kunst/
David Mabb's artwork featured on Catalan TV: https://www.youtube.com/watch?v=OSOuoFXl_Mo
Andy Weir. Deep Decay – Into Diachronic Polychromatic Material Fictions, Parse Journal, Platform for Artistic Research in Sweden. Issue #4 Times in November 2016. http://z33research.be/2017/09/deep-decay/