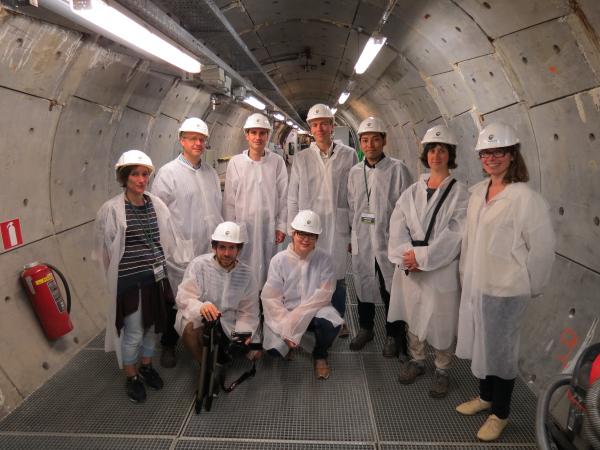 Nuclear Culture Field Research: HADES Belgium
Arts Catalyst & Z33 House for Contemporary Arts, Belgium
11 - 13 July 2016
In July the Nuclear Culture project is organising a field research trip to HADES, Belgium's underground research lab for geologic disposal of high level radioactive waste. The research trip is organised in partnership with Z33, Hasselt, and ONDRAF / NIRAS the Belgian Agency for radioactive waste and enriched fissile materials. Artists Kota Takeuchi, Andy Weir, David Griffiths and curators Ils Huygens and Ele Carpenter will spend three days visiting Z33 in Hasselt, meeting with our partners at ONDRAF / NIRAS and SCK-CEN going into the underground research laboratory. The field research trip is part of the Z33 research programme on Time. Constructed in 1980 the HADES lab is 255m underground and built in a deep clay for the purpose of researching the possibility of geological disposal in clay. Like underground laboratories in France, Sweden and Japan, the research lab is not intended to be used as a final repository for radioactive waste. Hades is also the Greek God of the underworld.
Dave Griffiths is an artist based in Manchester He is a PhD candidate at MIRIAD, exploring chronotopes of extinction events, using the material potential of archival microfilm. In Deep Field [UnclearZine] Dave Griffiths documents field research in Mol and Dessel in Belgium, two neighbouring rural communites co-existing with nuclear workers and radioactive waste repositories. This microfiche assembles and miniaturises photographs, out-sourced poetry and illustrations, and interviews with state scientists and a citizens monitoring group. For the benefit of far-future readers, Griffiths attempts to translate the contemporary repository as a folkloric site of conflict and unknowing.
During Arts Catalyst/Z33 July 2016 field trip to HADES underground research facility, Dave is organising Deep Field [Nuclear Golf], using leisure facilities enjoyed by SCK's nuclear workers, tourists and communities of Mol & Dessel. As the assembled artists and scientists shoot tiny balls across the driving range, Griffiths will collect immediate feelings on our short time as underground moles in the research bunker, and reflections on future scales of time and space implied by burying, and co-existing with, nuclear waste. In using an analogue media durable for only 500 years, Griffiths highlights problems around the survival and reception of complex nuclear-security knowledge in the face of material, linguistic and political ruination. The microfiche proposes a gesture to future citizens, that could be re-translated and reproduced many times through deep-time subject to a decision: to remember, or to delete?
Andy Weir is working on an art practice-based PhD research project at Goldsmiths, University of London. Starting from the premise of the inadequacies of the condition of Contemporary Art to offer a vision of the future (if art is always 'contemporary', how can it have a future?), he is researching collaborative interdisciplinary methods of future-sensing. Andy's focus is on laboratories for deep geological repositories for long-term storage of nuclear materials, where these sites operate as projections of 'deep' material timescales – the billion of year timescales of radioactive decay, for example, indifferent to the priority of human life. Such research, he proposes, offers an important contribution to debates around art and 'speculative' Realist developments in philosophy. Andy is interested in the methods and strategies of future prediction used at the sites and their contribution to narrating a material history of Plutonium.
Kota Takeuchi is researching the time of human memory and the extreme temporality of sublime concepts of deep time constrasted with the everyday human experience. He is Artist in Residence at the Arts Catalyst during July 2016, and will be talking about his new work at the Arts Catalyst on Saturday 16th July. He is currently showing his artwork 'Take Stone Monuments Twice' at the Material Nuclear Culture exhibition at KARST, Plymouth, until 14th August.
http://www.z33.be/en
http://science.sckcen.be/en/Facilities/HADES