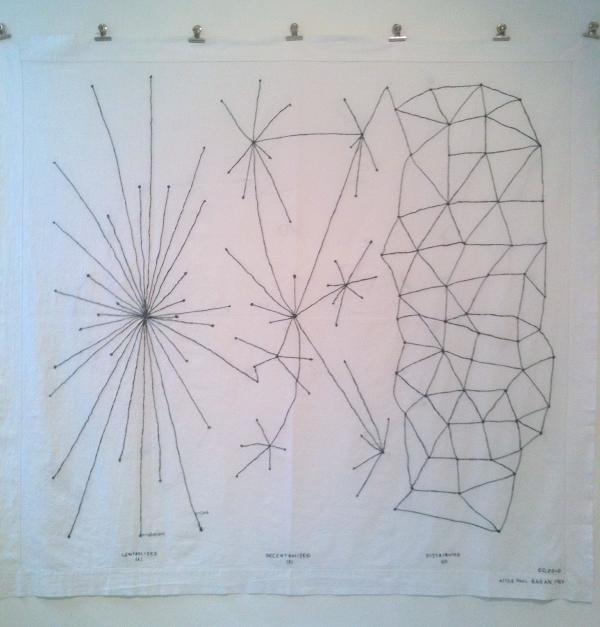 The Continuities of Cold War Systems: A Symposium. Institute for Modern & Contemporary Culture, University of Westminster. Thursday 27th February 2014, 9am-6pm. From the late 1940s through the 1980s systems analysis, cybernetics, and information theory came to shape military, business, government and academic thinking on a wide array of subjects. The influence of such thinking is also evident in the arts, from the so-called systems novels of the 1960s and 70s, to minimalist and electronic music, conceptual art, and the emergence of electronic media. The end of the Cold War did not end systems thinking; indeed, given the phenomenal expansion of computer technologies into every aspect of contemporary life it is fair to say that we are now living in a world imagined and engineered during the Cold War. This event seeks to address the ways the Cold War, particularly through a consideration of systems thinking, continues to shape the contemporary.
Hosted by John Beck (Westminster) and Ryan Bishop (Winchester School of Art), participants include Ele Carpenter (Goldsmiths), Fabienne Collignon (Sheffield), Mark Coté (King's), Dan Grausam (Durham), Ken Hollings (Middlesex), Adrian Mackenzie (Lancaster), Jussi Parikka (Winchester), John Phillips (Singapore), Adam Piette (Sheffield), Jennifer Pybus (Winchester), James Purdon (Cambridge), Aura Satz (London Consortium), Neal White (Bournemouth).
Ele Carpenter, 'Shifting Nuclear Imaginaries' Abstract:
Visual art is capturing and shifting the nuclear imaginary by reflecting contemporary lived nuclear experience through conceptual frameworks of materiality, invisibility and time. No longer waiting for Derrida's apocalypse and the end of the archive, or investigating a by-gone nuclear age, today we witness the nuclear disaster unfold in slow motion around us (Liam Sprod, 2012) and consider what the nuclear archives should contain for future generations.
This paper takes a speculative future perspective from which to view our nuclear present, drawing on Mackenzie & Spinardi's (1995) research into the potential un-invention of nuclear weapons through the loss of tacit knowledge. Their research into nuclear weapons design, testing and computing, allows us to rethink cold war continuities within a new mode of nuclear aesthetics. They touch on conceptual frameworks relevant to contemporary art practice and discourse such as: the contested nature of sameness in the repetition of objects; the importance of the slowness of tacit knowledge; of the human eye, making and learning with others; the limits of code; and the erosion of nuclear belief systems. Isabelle Stenger's articulation of Deleuze and Guattari's 'line of flight' is used to interrogate how the nuclear might be understood as a betrayal of modernity, from the fragility of tacit knowledge and the culture of belief in which it is maintained. This cultural and formal analysis of nuclear and artistic practices can be helpful in understanding the characteristics of art that mediate and rethink visual media as well as nuclear technologies from Moholy-Nagy, Nuclear CH1 painted in 1945 to Kota Takeuchi's twitter paintings in 2013.
Recent artistic practices in Japan and internationally, explore counterfactual possibilities across time; where aspects of nuclear culture are made visible or possible in a world where apocalyptic scenarios are streamed live. Within the artistic investigation nuclear modernity Kenjie Yanobe's Sun Child takes his hood off in a radiation free world, Miyamoto Katsuhiro proposes a 21st Century nuclear vernacular architecture, artists capture radiation on film, and future nuclear archives will include public as well as industrial data (Cecile Massart). In the UK artists Thomson & Craighead are planning a series of 'Nuclear Semiotic Totems' not simply markers of sites, but markers of time which can be embedded in physical as well as virtual sites and archives. Nuclear materials are shifting from the responsibility of state weapons production, to the privatization of the nuclear energy industry, and finally into the public realm with nuclear accidents and public consultation on the siting of long-term waste disposal. As nuclear materials enter public circulation, so does their representation. In Japan artist Kota Takeuchi reconfigures different forms of cultural and physical exposure to radiation through digital technologies that enable tracking and syndication of information, capturing and filtering imagery through multiple platforms. Rather than focusing on transmission speed, artists are interested in how the networks are interrupted, looped, mapped, slowed down for reflection on how things are made, how stories are told, and how knowledge is consolidated.