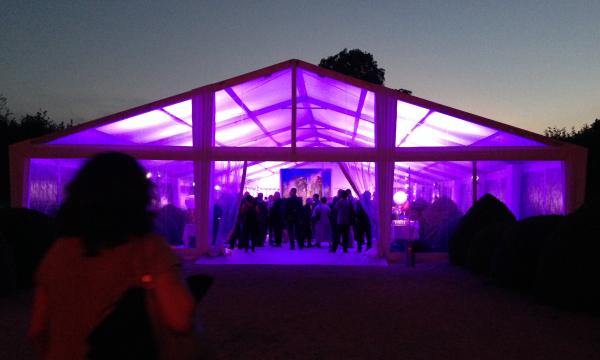 Constructing Memory (Construire la mémoire). An International Conference and Debate on the Preservation of Records, Knowledge and Memory (RK&M) of Radioactive Waste across Generations took place at the Centre Mondial de la Paix, Verdun, France, 15-17 September 2014. Artistic works by Cecile Massart (Belgium) and the Cumbrian Alchemy project were displayed in an exhibition in the dining marquee. The closing conference lecture by Professor Peter C Van Wyck explored the concept of the Nuclear Anthropocene, in ways that are particularly pertinent for the discourse of deep time within the visual arts. Ele Carpenter presented a poster by artists Thomson & Craighead.  
The conference brought together researchers, academics from discsiplines such as archeology, philosophy, semiotcs with industry partners working on long term management of radioactive waste. The conference proposed that "Long-term projects of any nature are vulnerable to loss of Records, Knowledge and Memory (RK&M), and the international community of radioactive waste professionals is focusing on work to preserve RK&M across generations. Schemes for maintaining RK&M need to be prepared while the interest is high and funding is available. This conference will provide a forum for specialists and interested parties in RK&M preservation in general and radioactive waste in particular to discuss prospects, current projects and challenges, and to build synergies. The OECD/NEA will share the findings of its international initiative on the "Preservation of RK&M across Generations".
Here is Ele Carpenter's report on the conference, considering how contemporary curatorial and artistic practices could contribute to the discourse:
Curating Contemporary Visual Art in response to the challenges of preserving the Records, Knowledge & Memory (RK&M) of radioactive waste.
Visual language is at the heart of how we communicate ideas, articulate meaning and embed knowledge in culture. The humanities draw from the art-historical archives of paintings, prints, drawings and artefacts to demonstrate the concepts of deep time through an analysis of material semiotics. This paper introduces some of the curatorial concerns of curating contemporary art within a nuclear context, and demonstrates how three art projects can contribute to the critical thought and cultural memes surrounding geological radioactive waste storage.
Whilst contemporary artists are focused on the exploration of ideas through making, curatorial practice situates this knowledge within wider theoretical frameworks and contemporary debate. The visual arts is an aesthetic, intellectual and academic discipline with its own historical discourse, interrogating the relationship between abstraction and representation, form and content, art and context, art and language. In short, art is not just about the object, but making and thinking together; where context is half the work[i].
Contemporary art practices are engaged with the conditions of contemporaneity: articulating the present, or the continuing present; creating complex forms of meaning within our contemporary and emerging culture; establishing mechanisms for how objects, performances, actions and ideas are archived and reinvented through the generations. There is potential for artists to contribute to the cultural process of siting, marking and monitoring of radioactive waste storage for the short, medium and long term.
Thomson & Craighead
Artists Jon Thomson & Alison Craighead investigate understanding of geological and planetary time through the relationship between live data and the material world[ii]. They are working with curator Ele Carpenter and the Arts Catalyst in London to create an artwork titled 'Temporary Index'. They intend to work in partnership with radioactive waste storage sites across Europe to build a series of live decay-rate counters, markers of time as well as place. The artwork will utilise a range of live and pre-recorded data feeds which can be embedded in specific sites, syndicated online, presented in an art gallery, preserved in a museum collection, and included in nuclear archives.
The artwork will investigate how data can be presented publically through a series of numeric counters which countdown the probabilistic decay of radioactive materials in seconds. An example of one counter could be a bottle of sludge containing plutonium discovered in 2004 during the cleanup of the Hanford nuclear site in Washington State, USA. Another example might be ion exchange resins and filter materials used to clean water at Sellafield and stored at the Low Level Waste Repository, Cumbria, UK. Whatever the items identified (and this will be a complex process requiring collaboration with experts in the field), it is important that a wide range of short and long term waste products are used to represent diverse timescales that produce a rich constellation of data. The design of the counter will demonstrate how human measurement of time is a process of linguistic and pictorial language.
In 2015-16 Thomson & Craighead will be working with the BildMuseet and HUMlab at Umea University, Sweden, to create a series of counters annotated with the waste item's provenance. The result will be an array of counters for simultaneous exhibition, where they become animated objects of contemplation; representations of time that far outstrip the human life cycle and provide us with a glimpse into the vast time scales that define the universe in which we live in, but which also represent a future limit of humanity's temporal sphere of influence.
Cécile Massart
Artist Cécile Massart has been researching radioactive waste sites around the world for over 20 years[iii]. Her drawings, films, books and exhibitions investigate the formal aspects of modernist architecture of the sites, exploring how this 21st century archeological stratum is being inscribed in the landscape. By working with nuclear agencies in Belgium and France she has an in-depth understanding of the semiotic and future-archeological challenges in marking waste sites across the generations, and the need for continuing responsibility.
Cécile Massart proposes new ways of thinking about the cultural work of marking sites for the long term future.  Existing markers easily become monuments of the past, rather than markers of the future. In many circumstances the message enscribed on static markers has already been demonstrated as redundant over just one generation. As a contemporary artist and Massart has identified the need for each generation to work with its own cultural terms of reference to mark sites, not simply through the long-term totemic marker but by engaging diverse stakeholder groups of experts and communities to learn about the site and mark it for the next generation.
Alongside the conventional static site marker, Massart proposes to build an artistic laboratory, which will be a community-based project inviting artists, scientists and local stakeholders to work together in a multidisciplinary and multicultural framework.  This is an important shift from the 20th Century discourse of semiotic markers to a 21st Century engagement interdisciplinary and intergenerational cultural processes. This concept for a working lab emerges from the visual arts discourse of relational aesthetics, and an understanding of the network of objects, humans, and technologies that contribute to the long-term meaning and understanding of nuclear sites. Within curatorial practice, Massart's work needs to be developed through a relational framework, as well as the civic expectations of commissioning a public monument.
Cumbrian Alchemy
Artists Bryan McGovern Wilson (USA) and Robert Williams (Britain) have produced a beautiful archival exhibition and publication of their performative research into the relationship between Cumbria's nuclear industry, landscape, archaeology and folklore.[iv] The installation includes a series of drawings, photographs, sculptural artefacts and public archives that explore complex and speculative relationships between objects, humans, materials, landscape and beliefs overtime. The works brings together artefacts which form a continuity of nuclear folklore, from the region's pre-nuclear history and megalithic monuments to speculative nuclear futures. Thomas Sebeok's proposal for an 'Atomic Priesthood' is performed on the Cumbrian Hills, evoking the need for powerful ritual to pass records, knowledge and memory onto future generations.
The archival drawers each contain a set of objects and documents that focus on different historical intersections between the nuclear industry and popular culture, from super-hero's to ancient monuments, and multifarious forms of nuclear heritage from industry information pamphlets to an archive of public consultation and protest. The work also incorporates visions of local scientific luminaries such as: the originator of modern atomic theory John Dalton; physicist Michael Faraday; and Sir Richard Owen, founder of the Natural History Museum, London. The archive demonstrates how informal and formal knowledge circulates through different social networks and communities of interest.
The work demonstrates how artists can create contemporary archives that reach back to the past and project into the future. The understanding of temporality and contemporaneity in the work is vital for considering how knowledge can be embedded in our past folklore as well as recognized in the present to open up new possibilities in the future. Curatorial work is needed to enable the place the Cumbrian Alchemy archive within future nuclear archives.
Curatorial Knowledge
The RK&M project, along with the former InSoTEC and forthcoming Modern2020 research programmes provides an interdisciplinary research platform in which curatorial knowledge could contribute to the debate and develop cultural programmes, working with artists to develop partnerships to realize artworks that engage a wider public with radioactive sites.
There are many curatorial programmes, such as the Arts Catalyst, that facilitate collaborations between art and science, bringing together different disciplines, providing space to think differently outside the usual frames of reference, and to take care over language, translation and meaning across industry/ public sector partnerships.
Curatorial knowledge can contribute to the cultural discourse surrounding geological repositories by providing ways of thinking about the challenges from different cultural, material, historical and metaphorical perspectives. Contemporary artistic practices deal with the complexity of visual language and how it is so easily misunderstood, misconstrued and intrumentalised. For example the common misnomer that 'art speaks for itself' reveals the process by which site markers will quickly become redundant as nostalgic examples of 21st Century public art without the nuances of relational practice.  Inviting artists and curators to the table, provides the opportunity to deconstruct assumptions about transferable metaphors, shared philosophical concepts, and new forms of folklore and mythology.
Arthistory, along with religion, has one of the most effective forms of cultural archiving, preserving records, knowledge and memory through museum collections and curatorial study. Therefore it is vital that cultural institutions need to be involved in the commissioning and dissemination of the cultural artefacts, performances, sound recording, actions and events which artists are developing formally and informally in response to geologic waste storage and decommissioned nuclear power plants.  The commissioning of visual arts needs to include partnerships with curator s and cultural institutions to develop tangible, conceptual and speculative propositions, allowing artists to interrogate language through deconstructing rhetoric, and the role of the human within material and energy networks.
Working with other disciplines can help to broadened the horizons of the context in which we work, giving people permission to think differently, and speak about concerns that the normative culture of their field doesn't allow space for. It can help to articulate things people already know but don't have the language or support to describe. The arts and humanities can think holistically, they don't need to compartmentalize research-processes and knowledge in the same way as science and engineering. At the same time these disciplines are not homogenous, there are many arts and many sciences.  But industry/ research or art/science partnerships often have expectations that art might articulate what is already visible and known, whilst artists might interrogate the interplay of visibility and invisibility both materially and politically in unexpected ways.
Several decades or centuries of curatorial work is needed for the nuclear archives to move into the public domain, and to be able to include art and politics. The first step is to establish a curatorial context for the commissioning, production and dissemination of these contemporary artworks within multiple discourses, to find new ways of embedding the complexity of radioactive waste management in our past, present and future cultures.
Conclusion
The RK&M project provides an interdisciplinary research platform in which curatorial knowledge could contribute to the debate and develop cultural programmes, working with artists to develop partnerships to realize artworks that engage a wider public with radioactive sites. The conference presentation on curatorial practice importantly raised the way in which curatorial professionals identify and anticipate societal changes, and play a major role as 'tutors of resilience'. This museological perspective is important in identifying curating as a contemporary form of knowledge production accompanied by the administrative roles of risk assessment and conservation. The RK&M project has established a broad network of academic and industry institutional partners, and there is potential to develop cultural partners, working with contemporary art museums and curators in the future.
Profiles
Dr Ele Carpenter (b.1971) is a curator and writer in politicised art and interdisciplinary social networks of making based in London. Her Nuclear Culture curatorial research project is a partnership between The Arts Catalyst and Goldsmiths College, where she is a Senior Lecturer in MFA Curating. Her curatorial research into Nuclear Culture[v] investigates how cultural knowledge and practices around contemporary nuclear concerns are formed, commissioned and disseminated, and how artists and curators take part in this process. The research focuses on 21st Century nuclear aesthetics from the atomic sublime to radioactive divinity; the relationship between social and material concerns in the nuclear cycle; and the nuclear Anthropocene. The project is developing a curatorial context for commissioning, developing partnerships and theoretical frameworks for new artwork. Since 2011 Carpenter has been working with the Submarine Dismantling Project Advisory Group (SDP-AG) to develop new proposals for artist's projects. She has also worked with the Arts Catalyst to curate a series of Symposia. She recently curated the Actinium exhibition, forum and field trips to nuclear sites in Japan 2014; and is curating an exhibition on Perpetual Uncertainty for the Bildmuseet, Sweden, 2016.  The Nuclear Culture research project is supported by the Arts & Humanities Research Council (AHRC), UK; Arts Council England; and Goldsmiths College, University of London.
Jon Thomson & Alison Craighead: Alison Craighead (b. 1969) and Jon Thomson  (b. 1971) based in London, UK. They are fascinated by how trends of globalization and networked global communications have been re-shaping the way we perceive and understand the world. Many of their works investigate time and the digital representation of time and narrative. They make artworks and installations for galleries, online and sometimes outdoors. Thomson lectures at The Slade School of Fine Art, London. Craighead is Reader in Contemporary Art and Visual Culture at University of Westminster and Lecturer in Art at Goldsmiths College, Uni of London.  Thomson & Craighead exhibit internationally, and have work in collections across the UK. In 2014 they presented a solo exhibition at Dundee Contemporary Arts, and were shortlisted for the Nam June Paik Award in Krefeld, Germany. In 2013 they presented a solo exhibition at MEWO Kunsthalle, Memmingen, Germany; and took part in Transitio MX 05, the Festival of New Media Art in Mexico City. The artists research into nuclear culture has been supported by Arts Council England. Thomson & Craighead are represented by Carroll/Fletcher Gallery, London. http://www.thomsoncraighead.net
Cécile Massart is a visual artist and professor based in Bruxelles, Belgium.  Since 1994 she has investigating international sites for radioactive waste storage. She has works in private and public collections, and recent exhibitions include: Cabinet d'Amateur Privé d'Arte d'Architecture n° 2 at Uccle, Prisime Editions & Françoise Mortier, Bruxelles, 2014.  Massart's practice includes engraving, photography, computer graphics, video, sculpture and installations, and creates artist's books. She is co-founder of the Art school of Loulé in Portugal and founded the Carré publishing house. From 1980 to 1989 Cécile led projects by the group "Missing Ink". Her extensive artistic research and teaching includes: Academy of Ixelles (1977-1989), École Supérieure des Arts Plastiques et Visuels in Mons, École Nationale Supérieure des Arts Visuels La Cambre in Brussels. Massart has presented her work at conferences on the social and technical challenges of radioactive waste storage such as InSOTEC 2013, and RK&M, 2014.
Cumbrian Alchemy: Bryan McGovern Wilson is multidisciplinary artist whose work addresses themes of time, the body, and ritual.  Wilson looks to craft traditions as methodology, and archaic symbolism, and field research as strategy to inform his works. He currently lives and works in New York City, USA.  Robert Williams is an artist and academic, Professor of Fine Art at the University of Cumbria. William's interdisciplinary practice encompasses an interest in epistemology and systems of knowledge from the hermetic to the scientific. His recent practice includes a number of collaborative projects with artist Mark Dion and 'information as material'. Williams also works on an intergenerational collaboration with his 13-year-old son, Jack Aylward-Williams. The artists initiated the Cumbrian Alchemy project in 2010, which is hosted by the University of Cumbria and supported by Arts Council England.
---